Today, my lunch break was intended to get a bite to eat at Yorktown's Mexican fast food restaurant in the food court and maybe take a look at some wallets at
Von Maur
.
What actually happened is that I made a bee-line in Von Maur to Laura Mercier. The makeup area had been revamped in the latest reconstruction that's been taking over a month. I hadn't checked out the product line in a good long while and wanted to get reacquainted. I was not disappointed!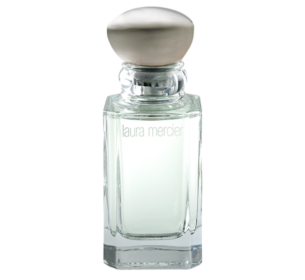 I first glanced the perfume line, which was several bottles larger than I last remember it in 2008-2009. I sniffed all the offerings and returned to take a second whiff of
Neroli
. I fell in love at second sniff! Although the lovely and very helpful attendant was pushing the almond coconut perfume--which I recall as well as the lovely creme brule--saying it is lovely for summer, I just couldn't shake the Neroli. It's extremely reminiscent of my Junes in Genoa, where the
pitósforo blossom aroma
pervades your hot days and breezy evenings. It's also got a lovely citrus underlayer that picks up the floral so it's not cloying--perfume description per the website:
orange bigarade, lemon peel and freesia
Heart of the fragrance contains notes of neroli, fresh jasmine and peony
Dry down with musk, amber, sandalwood and vanilla
I put some on my wrist and waved at it to see what layers it had. I always hate it when something smells spectacular in the bottle, very nice on a paper strip, and terrible once on my wrist. This perfume actually stood its ground and the layers are all very true to the original, in-bottle scent. My chemistry seems to be working well with this one! Win!
I also wanted to take a look at the growing LM makeup line. I don't recall such a large display years ago.
I took a look at the lip glosses since I'm in need to replace my trusty
Aveda raspberry tea lip glaze
, and realized that Laura Mercier's
rose flush lip plumper lip gloss
. It's one of the stickier lip glosses (not stickiest mind you!), but I would urge you--if you're trying to find a nudey-pink lip color--to try some with a cotton tip on your hand before you discount it right off the bat.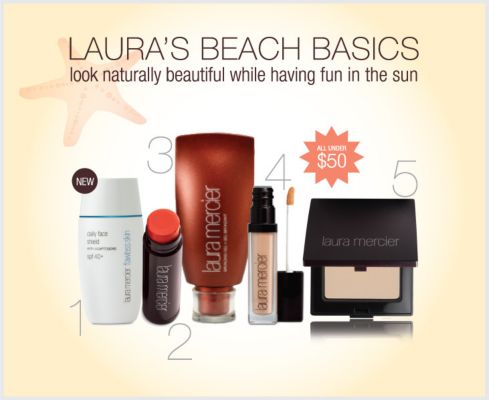 They still have the classic primer and tinted moisturizer that are famous, but also some lovely
summer-themed bronzed beachgoer items
they're featuring this summer. I was going to ask the attendant whether any of their powder makeup is talc free, but I didn't have the heart to put her through the ringer like that--and besides, I was on my lunch hour and need to get back!
This was an awesome reacquainting experience with LM's line of wonderful products. I missed you LM!